History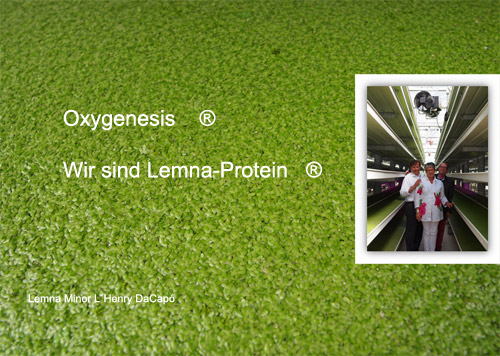 Oxygenesis GmbH, with registered office at Spierhof in Kalkar, Germany, has been the world leader in the development of aquatic cultivation methods, particularly indoor cultivation methods, and of cultivation devices, specifically for duckweed, since its foundation year in 2007. Arranging the cultivation devices in a stack arrangement allows an enlargement of the ground area such that a multiple of the initially present area will be obtained as an aquatic production area. Nutrients employed in this process may be of mineral origin, but may also originate from separated and hygienised conditioned nutrient streams; they may also be obtained from excess yields from agricultural or food production. A high demand for CO2 is created as a result of the high packing density of the cultivation area in this special greenhouse variety (a so-called photo-bioreactor), so that methods and devices of this type may also be established in an ecologically reasonable manner at sites which produce a high amount of CO2. The heat concept of biogas plants is particularly capable of meeting this high demand for both heat and CO2.

This cultivation method has been successfully patented and covers a comprehensive international IP portfolio. The portfolio of patents and protected varieties, with first dates of application in 2007, has been continuously supplemented and updated in the following years. In addition, many patents have been granted and have already been successfully defended after successful examination by the German Patent Office (DPMA), the European Patent Office (EPO), the US Patent and Trademark Office (USPTO), the Chinese Patent Office (SIPO) as well as the Community Plant Variety Office (CPVO) in each case.

Oxygenesis owns a collection of essential varieties of duckweed of various genera. In 2010, Oxygenesis filed applications for protection of the first duckweed varieties which were granted after successful examination. In doing so, Oxygenesis was the first owner of protected duckweed varieties and other aquatic plants worldwide and has been leading this development ever since. The first photo-bioreactor was also established in 2010. Since this time, the photo-bioreactor and the indoor cultivation method have been continuously developed and updated with new patents.
Diverse stack systems and methods of construction have been developed and tested.
Diverse stack systems and methods of construction have been developed and tested. Other on-site greenhouses are hosting lagoons for an intermediate storage of living biomass – which is also an idea patented by Oxygenesis.In 2014, Spierhof underwent a further stage of development when a photo-bioreactor having two parts was established, in which stack arrangements for duckweed cultures and other aquatic cultured plants with low-light tolerance were created.
At the same time, a laboratory was established which allows to measure and examine laboratory samples with respect to the cultivation method in-situ. In doing so, various sources of nutrient streams are adapted for an optimum nutrition of the duckweed.